1. ORDER SECURITY PACKAGE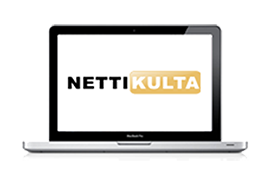 Order a free security package in the form above. You will receive it within a caouple of days. The package contains everything you need for an easy and secure sale of gold.
2. SEND YOUR GOLD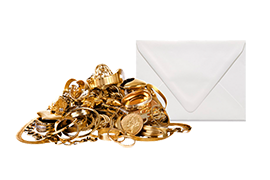 Put your gold items in the security package and send it to us. The postal fee is prepayd and the package insured. Keep the receipt for the shipment and you can use it to follow the status of it.
3. PAYMENT WITHIN 8 HOURS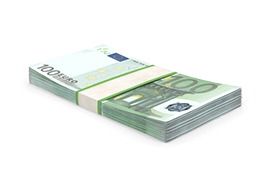 Our price guarantee ensures you the best price. We update and compare gold purchase prices every day to match the changing world market price. If you are not happy with the price you may cancel the sale.
NettiKultas price guarantee
NettiKulta makes it easy to sell precious metals and get the highest price. Get up to 1€ / g more.
Our price guarantee also ensures an expert service trusted by thousands of customers.
Read more about NettiKultas price guarantee
You get the best price for your gold from us. Contact our customer service for more information about todays gold prices.
24k

61.14

€ / g
23k

46.11

€ / g
21k

42.11

€ / g
18k

36.10

€ / g
14k

28.16

€ / g
9k

18.05

€ / g
8k

16.03

€ / g
You get the best price for your silver from us. Contact our customer service for more information about todays silver prices.
| | |
| --- | --- |
| 999 | 0.75 EUR / g |
| 925 | 0.69 EUR / g |
| 900 | 0.68 EUR / g |
| 830 | 0.62 EUR / g |
| 813 | 0.61 EUR / g |
| 500 | 0.38 EUR / g |
| 350 | 0.26 EUR / g |
Read more about prices and terms
NettiKulta guarantees
✔

Best price for gold and silver.

✔

Payment for gold within 8 hours.

✔

Free security package and shipment.

✔

Free and insured return shipment.

✔

100% customer satisfaction.
Selling gold is easy
You can sell us any type of gold items, like jewelry, coins, ingots and tooth gold.
Customer reviews
"I warmly recomend NettiKulta. I really appreciate the honest and quick service and I got a good amount of money, much more than I expected. I also received the payment quickly to my account..."


Kaarina, Naarajärvi
"I sold my gold to NettiKulta. I got so much money that I went on a vacation with a friend."


Sinikka, Jyväskylä
"I got good and fast help from your customer service."


Päivi, Espoo
"I was a little bit dissapointed over the price because I thought my gold chain was 18k gold but it turned out to be 14k. Thank you for the explanation."


Tuovi, Vantaa
"I have nothing bad to say about NettiKulta and the sale was even faster than I had expected."


Saija, Savonlinna
Frequent questions
Is the security package free?
Yes. We will send you a completely free security package. We also pay for return and insurance of the shipment, so there will be no cost to you.
How can you pay the best price for gold?
Simply because we minimize the company's fixed costs. It is important to us that customers get the service they want as cheaply as possible and do not pay for anything unnecessary.
When will I receive payment to my account?
We pay the money to your bank account the same day we receive and evaluate the goods you send. Keep in mind, however, that it can take 1-2 business days for your items to reach us from the time you send them.
Is it safe to send gold by mail?
Absolutely! NettiKulta only uses insured and registered deliveries for customer return transports and during the history of our company, no security package has been lost on the way. The shipping costs and insurance are always paid by NettiKulta, so you as a customer has no costs for sending the package.
I have questions that I can not find the answer to. What do I do?
We understand that selling gold can raise questions. Contact us and we will be happy to help. Call our customer service on 044 9877 049 mon-fri 10-16, Other times according to agreement, or send an e-mail to asiakaspalvelu@nettikulta.fi
I live in Sweden, can I send you gold?
WebbGuld.se serves our customers in Sweden. Selling gold and silver through post is an easy and safe way for customers to sell extra, broken or otherwise unnecessary valuables for cash. www.webbguld.se